Table of contents
Rating: 11/10
Where to Read: Kindle, Paperback
Quick SummaryChris
Hodges pastors the second-largest church in the United States. Church of the Highlands has often been called a "breath of fresh air" by many who attend. This book shares one of the reasons why this may be. Pastor Chris speaks about prayer not as a theologian, but as a practitioner. This book will help you be encouraged to pray, and be inspired to pray more, and it provides valuable next steps to get the most out of your every moment with the Lord. If you're like me, you will find yourself feeling with a desire to pray that will compel you start right then.
Bullet Point Takeaways
Many great stories point to the power of God.
I love the different prayer templates. Pastor Chris says they are good for mixing things up.
There is a great section at the end about fasting.
Bonus… at the very end, Pastor Chris gives 21 points of focus for 21 days of prayer.
My thoughts
This book is equal parts inspiring, encouraging, and practical. I intended it to take a while to get through, but it was hard to put down. It came along at the right time. The most surprising benefit was the section on understanding how to pray to the Lord. He provided some interesting insights on praying to the Father, because of the Son, through the friendship of the Holy Spirit.
Who is this Book For
This book is for anyone who desires to either begin a consistent prayer life and/or desires to restart their conversation with the Lord. You will find the prayer templates very helpful.
This book is also a great resource for anyone taking a 21-Day Prayer Challenge.
Goodreads Bio
Prayer is the lifeblood of the Christian faith--but many followers of Jesus still struggle to make prayer part of their daily lives. In Pray First, bestselling author and pastor Chris Hodges shows us how to make prayer a first response instead of a last resort.
Why is it that so many Christians find it difficult to develop a vibrant and exciting prayer life? Even though prayer is foundational to the Christian life, many are intimidated or uncertain about how to talk to God. Prayer feels quaint and old-fashioned to some, sacred and uncomfortable to others. It's not a lack of inspiration--there's plenty of that. And it's not that we don't realize prayer is important--we know it is. So, what's the issue?
Pastor Chris Hodges has spent years studying the prayers of the Bible and the models of prayer that the scriptures provide for Christians. Now, he shares the teachings and methods he's used to successfully help hundreds of thousands of people understand how to spend time in conversation with God--and enjoy every minute.
Pray First will give you the tools you need to:
Bring the joy back into your time with God
Take a journey through the prayers of the Bible, which reveal how to make prayer more personal and powerful
Learn about fasting, an often overlooked but powerful discipline that's a vital companion to prayer
Follow proven, biblically grounded methods for making prayer a priority, not an afterthought
Written in the personable, relatable, and always biblically based style that has become Hodges's hallmark, Pray First is a revolutionary how-to manual for anyone seeking a more dynamic, intimate prayer life with God.
Quotes
"There's nothing magic or spiritually powerful in the act of fasting by itself. Fasting simply clears everything else away so that you can channel all aspects of yourself solely on God. Fasting can move you forward in your relationship with God."
"The goal is not starvation or physical death but a fuller life in which bodily desires are properly ordered beneath spiritual desire for God. We abstain from whatever we usually use to fill our spirits other than God—food, entertainment, news, social media, whatever we rely on for comfort and pleasure."
"We come to Him through the grace and intercession of Jesus Christ, the Son."
"We worship God the Father and bask in His lavish love."
We receive the Holy Spirit and experience the intimacy of friendship with a comforter, teacher, champion, and guardian.
"Spiritual warfare is not an option—it's an essential part of growing in your faith and living for God.


Teaching from the Author
Buy It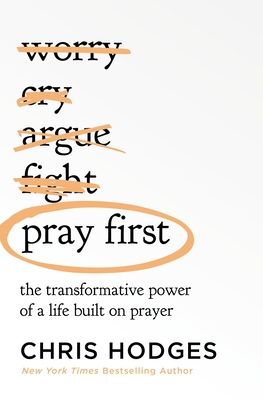 Praying Like Monks, Living Like Fools
Amazon