Table of contents
Like a good detective, let's examine this book.
🔥 Overview
Three letters of John get progressively more focused. The first letter is written to the overall churches, likely the seven mentioned in Revelation 2-3. The second letter is written to one particular church. The final letter is written to one particular person, likely his assistant.
In this third letter, most believe John is writing to someone we would currently call an "administrative assistant." This would have been someone who John may have sent to carry messages for him and deal with situations as they arose. As John is getting older, he is possibly having to depend on someone to go and do these things for him so he doesn't have to travel as often.
🙏 Jesus in this Book
(Every book reveals the glory of God, revealed in Christ Jesus)
🔍 Things to Focus On
Notice how John treats the recipient of this letter with such grace and kindness.
👀 Themes
Holding to the Truth with a loving attitude
😀 Who?
Who wrote it:  The Apostle John (John the Evangelist) There is some dispute about whether the same John who wrote the Gospel and Revelation also wrote the letters. I lean toward the majority that believes they were all written by the same person.
Martyred: John is the only one of the original 12 disciples who we believe died of natural causes.
Who is the original audience: Gauis. A leader of the churches in the area and possibly also operated as an assistant to John.
🪧 Where?
Where are we: Probably around the same place and time as the writing of his Gospel. Likely in Ephesus.
⏳ When?
When was it written: Approximately 90 AD.
🤔 What?
What is the big idea: False teachers had come to the area that John is overseeing. A guy named Diotrephes had taken over one of the churches and was causing trouble. John is writing to Gaius and encouraging him not to back down, but to stand strong in opposing his false teaching and leadership.
🧐 Why?
Why is this book important: Isn't this still the same thing as today? Some churches are led by good leaders who love the Lord and work toward growing the Body of Christ. Other churches are led by leaders who seem bent on destroying the Body of Christ. Perhaps it is not intentional. Perhaps it is all a big mistake and we should pity these people. The result is the same. We still stand for truth and hold to treating others with a loving attitude. This doesn't mean we agree and it doesn't mean we condone. It does mean we stand with grace.
📝 How?
How can I apply it?: Just like Gaius, we are going to encounter people who are doing more dividing than unifying. What do we do with them and those they influence? What is your next step in deciding to show love while also defending the truth?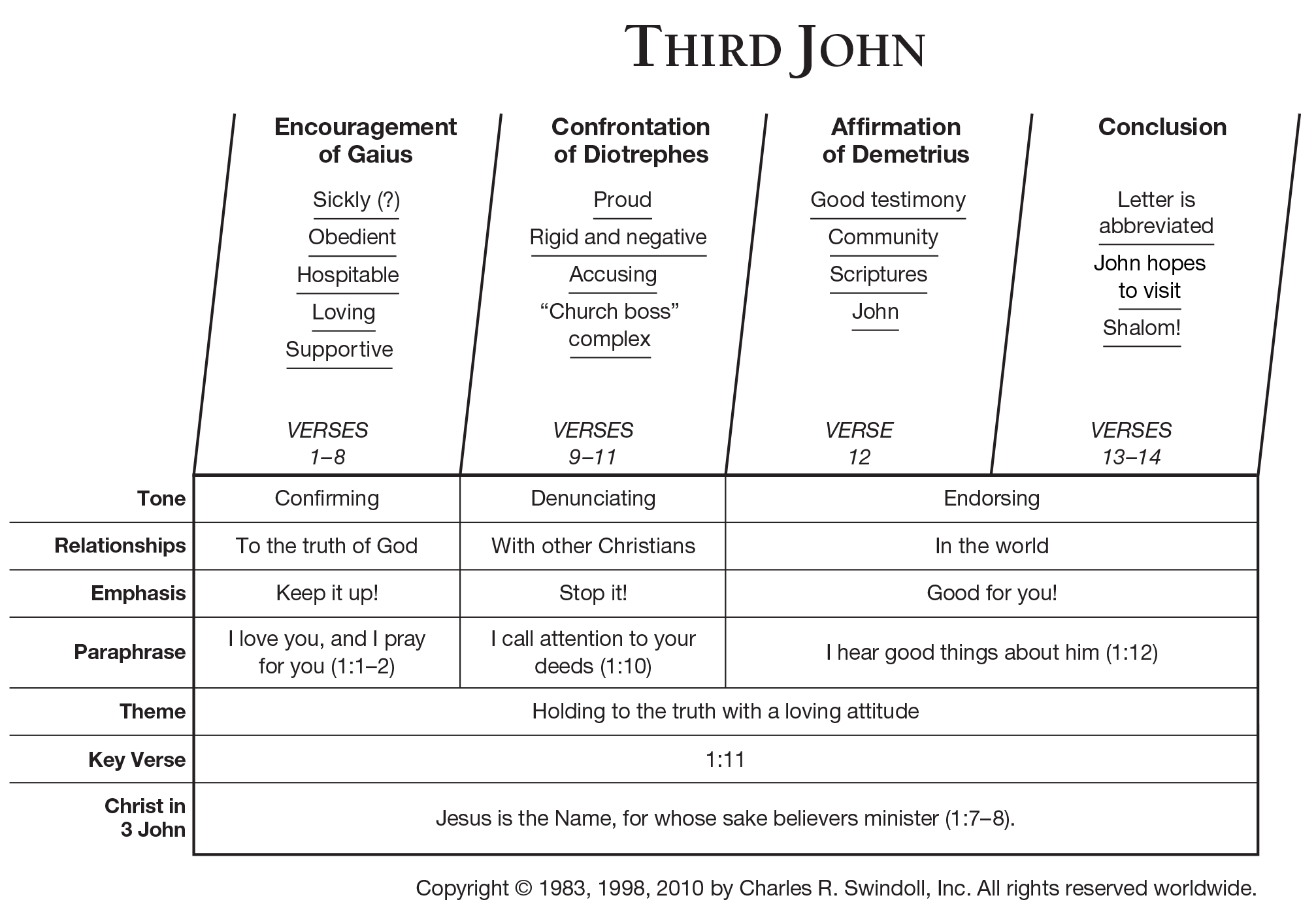 ---
Quick Thoughts on Each Chapter
Chapter 1
1 John was written to the overall church. 2 John was written to a particular church. 3 John was written to a particular person named Gaius. This was a fellow servant with John.

Read the Bible Online