Happy End-of-the-First-Week-of-the-New-Year.
I hope you all have a great holiday and your year has started well.
I use to be one of "those people" who made New Year's resolutions every year.
Every. Single. Year.
Every year was going to be my year to accomplish great things, end world hunger, and make the world a better place. By the end of the first week, I would realize I had already failed.
Every. Single. Year.
So, after starting to notice a pattern, I eventually changed to something new. Instead of making resolutions, I have started creating a new system or habit that will (hopefully) help me get 10% better every year. Don't laugh. It's easy to attain. And, that little amount starts to add up over time.
I truly believe we overestimate what we can do in the short term and underestimate what we can do through a lifetime of faithfulness.
So, this year's new habit is going to be... consistency.
Not very exciting but it will probably be wildly helpful.
My hope with all the online content for this year will be consistent in adding value to the following "buckets."
Learning the way of Jesus.
(Bible commentaries, deep dives, apologetics, etc.)
Living the way of Jesus.
(Spiritual disciplines, applying God's Word, etc.)
Leading the way toward Jesus.
(Social commentary, etc.)
To do this, I'm going to start seeing this weekly newsletter as a "Field Guide to Christian Life." Below, you will see some things I discovered along my journey that I hope will be a help to you.
Let me know what you think and let me know if there are specific questions about Christianity that we can explore together.
To all my RLC family...
I cannot wait to begin a three-part series this weekend called "Best Year Ever." Afterward, we will be jumping back into the "King Jesus" series. I've been reading ahead. It's going to be amazing!
2023, Here. We. Come!
---
This week's 📪 Letters to RLC>>>
👟👠 https://www.brandoncannon.com/a-shoe-clerk-changes-the-world/
---
🖤 My Favorite things this week:
🤯 WOAH! Progressive Christian debate. Sean McDowell "debates" a prominent Progressive Christian. This is great for understanding where Conservative and Progressive Christianity are similar and wildly different.
😡 Story Time: Why I HATE Tambourines- Since the beginning of RLC, people have always asked why I hate tambourines so much. Lol. I had way too much fun reliving this memory. It was very therapeutic and I hope you enjoy seeing me relive the pain. 🤣
🤔 Article: I Tried to Break Up With My Phone for 30 Days- I didn't realize how much I need a break from my phone till reading this article. It was really enjoyable and convicting.  
😎 Leadership- Life is too IMPORTANT to WASTE- Top Ten Rules for Life with Rick Warren.
📚 Book of the Week: 13 Things Mentally Strong People Don't Do- I really enjoyed this book. It's a great way to see if there are any negative thought patterns or habits that are keeping you mentally vulnerable.
🎧 Song of the week- It Is Well (Kristene DiMarco)
✍️ Quote of the Week:
Today is a bad day to quit. Wait one more day.
🤪 Dad Joke of the week:
Time flies like an arrow. Fruit flies like a banana.
😂 Funniest meme of the week:
Saw this everywhere last week. It was funny every time.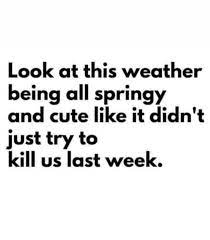 Hope you have a great weekend!