Table of contents
Like a good detective, let's examine this book.
🔥 Overview
I was listening to a Jewish rabbi talks about the book of Leviticus one time and he said Leviticus is the first book an orthodox Jewish child will study. This is funny to me because it is usually the last book an adult Christian will read. Why? Why would it be important for a child to start with this book and why do we sometimes put it off as long as possible?
For the child, it is important because they start off understanding that God must be worshiped with respect and according to His ways, not ours.
For the Christian, we just don't get it. We don't live in the desert and we celebrate that Jesus has paid the price for our sins and fulfilled the righteous requirement of the law... and it's boring. lol
Here's the bottom line: Leviticus is one of the most beautiful books in the Old Testament and here is why. First, Leviticus showed the Israelites just how far off they had gone from the holiness of God... and the way back. Second, without this book, the nation of Israel would have died in the wilderness from strife and disease. The book of Leviticus provides necessary guardrails to teach a slave nation how to handle freedom.
🔍 Things to Notice
The number of sacrifices required.
The different types of sacrifices for different things. (Not all were animal sacrifices)
The number of duties for the priests. They were not just in charge of corporate worship.
🙏 Jesus in this Book
(Every book reveals the glory of God, revealed in Christ Jesus)
👀 Themes
Access: The Way to God
Lifestyle: The Walk with God
Offerings
Rituals for worship
How-to guide for living in a desert
😀 Who?
Who wrote it: Moses.
There is some dispute over whether or not Moses wrote every word. He likely dictated the contents to a scribe. The authorship remains the same.
Who is the original audience: The nation of Israel.
🪧 Where?
Where are we: Moses likely wrote this book while at the foot of Mt. Siani.
⏳ When?
When was it written: When was it written: The time period of the exodus is disputed. A good estimate is between 1440-1400 BCE.
🤔 What?
What is the big idea: The overall idea of this book is holiness. Holiness means "set apart" for God. Yahweh is instructing the Israelites on how to approach Him. He wants to be in fellowship with His people but there is so much sin all over them. They have been steeped in paganistic Egyptian life for hundreds of years. This book is connecting them to God again.
🧐 Why?
Why is this book important: This book is a foreshadowing of Christ. Throughout Leviticus, we can see that "freedom" from Egyptian bondage is not free at all. This slave nation needs to learn how to take care of themselves and how to approach the holiness of God. Just like them, we can sometimes struggle to understand that salvation is free, but freedom is not. God does not simply wash away all of our broken places. He offers a road map and to walk with us. We have to take the journey.
📝 How?
How can I apply it?: First of all, with every verse you read, be thankful for Jesus. We do not live under the law anymore. Also, with every sacrifice, remember that Jesus has paid the price for us as well. What do you need to thank God for today?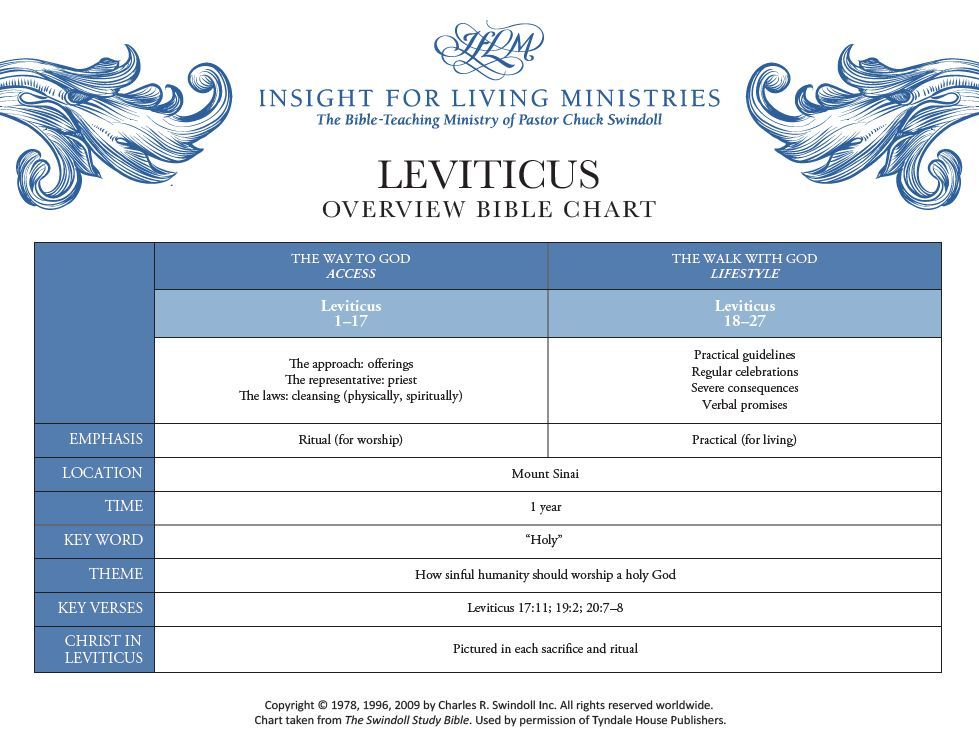 ---
Quick Thoughts on Each Chapter
Chapter 1: Leviticus is the book of the Bible that most people avoid. But, did you know it is the first book orthodox Jewish kids learn? Why? Leviticus teaches us about the great care the LORD has for His people. God teaches free people how to take care of themselves and stay free. The next several chapters may become tedious, but stand strong. When in doubt, read the Psalm.
Chapter 2: During the 40 years of wandering in the desert, a grain offering would have been expensive. Therefore, giving grain to the LORD would represent their complete dependence on God. This would remind them how God was the Source of their Supply and increase their trust in Him. Trust well placed.
Chapter 3: Peace offerings were given to God for three reasons. 1. Free will offering as a way of saying thank you. 2. The sign of a fulfilled vow. 3. An act of thankfulness for deliverance in a dire need.
Chapter 4: Sin offerings were given as atonement for sin. The blood of these animals were to represent "covering" sin. When you sinned again, you had to bring more sacrifices. It's so wonderful that Jesus died once for all and now our sins are not covered… They have been washed away.
Chapter 5: God takes time to let us know what was considered a sin and what was not. This is a good lesson for us because all sin is important to God. We must never think there is a difference between a "white lie" and something major. All sin needs forgiveness so nothing will separate us from the Lord.
more coming soon.

Read the Bible Online