Table of contents
Like a good detective, let's examine this book.
🔥 Overview
Three letters of John get progressively more focused. The first letter is written to the overall churches, likely the seven mentioned in Revelation 2-3. The second letter is written to one particular church. The final letter is written to one particular person, likely his assistant.
This first letter speaks about the fellowship we have with the Lord, through salvation, because of Jesus. It is filled with encouragement, hope, and joy. John speaks of us being children of God and the goodness of God in our lives. It's a beautiful letter that reminds us that God is the essence of love itself.
🙏 Jesus in this Book
(Every book reveals the glory of God, revealed in Christ Jesus)
The Source of all Fellowship and Everlasting Love
🔍 Things to Notice
1 John 1:9- Jesus is faithful to forgive all our sins.
God is love itself.
👀 Themes
Forgiveness
Fellowship with God
We are the children of God
God is love
😀 Who?
Who wrote it: The Apostle John (John the Evangelist) There is some dispute about whether the same John who wrote the Gospel and Revelation also wrote the letters. I lean toward the majority that believes they were all written by the same person.
Martyred: John is the only one of the original 12 disciples who we believe died of natural causes.
Who is the original audience: The church, likely the seven churches mentioned in Revelation 2-3.
🪧 Where?
Where are we: Probably around the same place and time as the writing of his Gospel. Likely in Ephesus.
⏳ When?
When was it written: Approximately 90 AD.
🤔 What?
What is the big idea: The idea of this gospel can be summed up in 1 John 1:3, "so that you too may have fellowship with us; and indeed our fellowship is with the Father, and with His Son Jesus Christ." The goal of this letter is to focus on understanding the rich and possible relationship with God that all believers are offered. We are not only forgiven. We are invited into a loving relationship as dear children.
🧐 Why?
Why is this book important: This letter is important because John takes all these high spiritual ideals and makes them very simple. This doesn't mean the Kingdom of God is simplistic. This simply means we sometimes complicate our understanding of the basics. It will take the rest of our lives to figure out how to properly live in the freedom of the Kingdom of God. But, understanding that Jesus truly loves us and desires fellowship with us is straightforward.
📝 How?
How can I apply it?: We all go through ups and downs in our walk with God. The important thing is to never move off our foundation. Jesus loves us and wants a lasting friendship with us. We are not perfect, but that does not change the perfect faithfulness of God. Do you need to be reminded that you have never been more loved than you are right now? Jesus loves you just the way you are, but He loves you too much to let you stay that way. In His perfect love, He lovingly walks us toward freedom every day.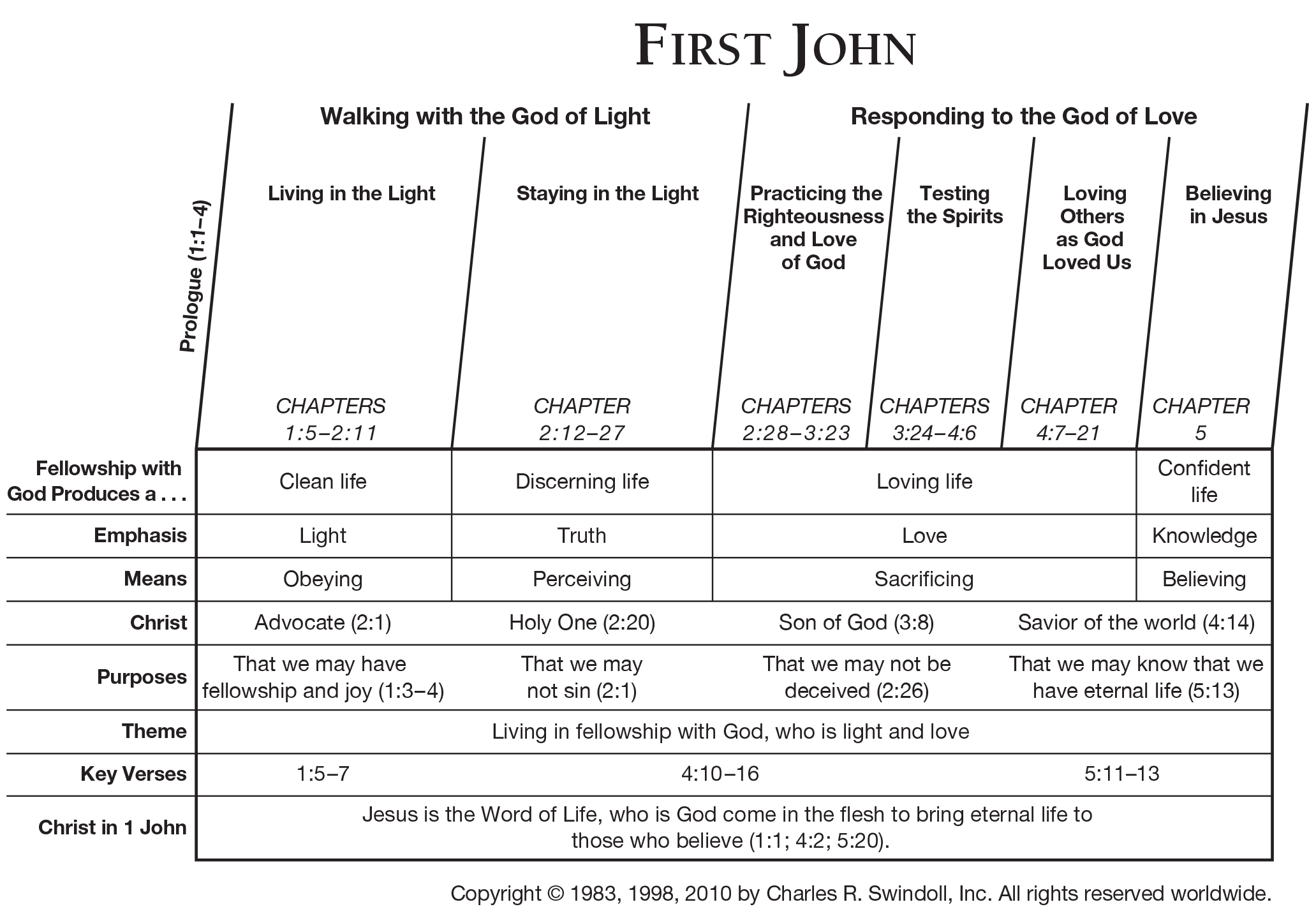 ---
Quick Thoughts on Each Chapter
Chapter 1
V6- This verse is the amazing promise that if we confess our sins we will receive forgiveness from the Lord. This is a promise for our soul when the enemy tries to plant the lie that we cannot be forgiven for any wrong we have done. The truth is God is always faithful. Praise the Lord.
Chapter 2
V6- God's Word challenges us to realize our actions should reflect our beliefs. This does not mean our actions earn our salvation. Salvation cannot be earned, only received by faith. Because of this, salvation begins the journey toward freedom from every sin that binds us. As we walk closer to the Lord, our actions should begin to reflect the freedom we are experiencing.
Chapter 3
V13- What a challenge! Is it possible Christians spend too much time trying to receive love from the world? This does not mean we go the opposite direction and try to receive hate or to be hateful. It simply means we do not live to please the world. We live to please our King, Jesus.
Chapter 4
Verse 4: We have already won a victory. Never forget that, because of Jesus, we live from victory and not for it.
Chapter 5
Verse 3- When we understand the love of God and His desire to help us walk in freedom, we do not see the commands of God as a pain. We are thankful that our loving Father guides us toward freedom.
Read the Bible Online