Table of contents
Like a good detective, let's examine this book.
🔥 Overview
notes
🔍 Things to Notice
🙏 Jesus in this Book
(Every book reveals the glory of God, revealed in Christ Jesus)
👀 Themes
😀 Who?
Who wrote it: The Apostle Paul
Martyred: Killed by Nero between 62 and 64 A.D. He beheaded. There were many more gruesome ways to die so this was considered a merciful death for a Roman citizen.
Who is the original audience: The church in the city of Thessalonica
🪧 Where?
Where are we: From the city of Corinth
⏳ When?
When was it written: 51 AD. within three months of the first letter.
🤔 What?
What is the big idea: Stand firm in your faith in the face of false teachers trying to sow fear into the local church community.
🧐 Why?
Why is this book important: Paul is responding to more worries and concerns by this young church. Paul is reminding them of God's faithfulness despite all the trouble they see brewing. We can still learn joy in knowing God's faithfulness.
📝 How?
How can I apply it?: Things will get worse. However, this does not limit God's ability to take care of His people. It also doesn't take the Lord by surprise. God is faithful. God is all-powerful. We can trust in His goodness even when things look bleak. Can you trust the Lord despite outward circumstances?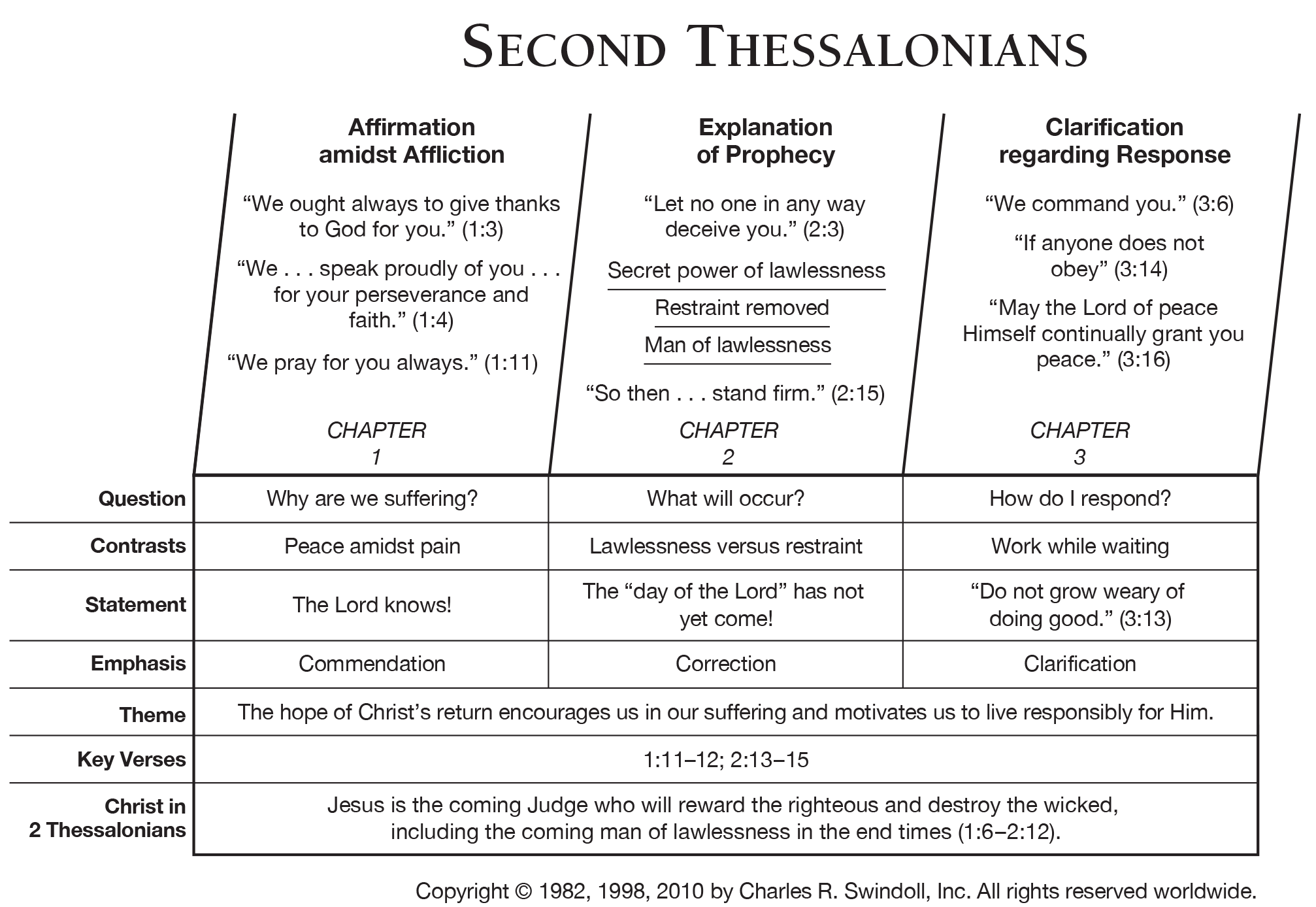 ---
Quick Thoughts on Each Chapter
Chapter 1
This letter was most likely written soon after the first. Chapter one speaks about trusting in God's judgement. Though it may not come when we want and how we want, we can trust that God will always be just. This fills us with hope. We know can trust that God is always doing what is right even if we do not see it right now.
Chapter 2
This chapter speaks about someone called "the man of lawlessness." There is much debate about exactly what's going on here. Many think Paul is referring to the antichrist at the end of the age. No matter, God's Word finishes this warning with hope in verse 16-17, "May our Lord Jesus Christ Himself… comfort your hearts and establish them in every good work." While it can be interesting to study prophecy in the Bible. Never let your hope be shaken from the enteral goodness of God.
Chapter 3
God's Word finishes this letter by speaking to the Christian community and encouraging us to work hard and honor one another. Having a long term vision in our lives can be exhausting. God sees this and encourages us to, "not grow weary in doing good." (V13)
Read the Bible Online