Table of contents
Happy Friday.
So thankful for all of you and the chance to connect with you in this way.
First of all, thank you for all your support as I have been getting my website off the ground. It is definitely a "labor of love." (Big emphasis on the 'labor' part.) There are still many steps to take. It will be a long journey, but I am happy to have so many of you here for the ride. Hopefully, my rambling and stumbling will inspire you to try something new.
For now, here are a couple of things you may want to know.
1- This newsletter is actually a lot of fun. 📝 ✍
It gives me a chance to tell you about some of my favorite things of the week. The biggest challenge is not wanting to fill up your inbox with more than one email. So, I may end up merging the "Letters to RLC" and the weekly newsletter. I'll keep you posted. Don't forget, you can always reply to these emails and let me know if you have any ideas.
2- I am working toward doing a little more on YouTube. 🎥
However, it is not my main passion so it will be inconsistent. It is what it is. Lol.
If you wouldn't mind, head over there and subscribe so you can view that content and give me your opinion. www.youtube.com/@thebrandoncannon
3- I have a few pages up and running.🎉
Feel free to check them out and let me know what you think so far.
Here's the categories:
So much fun. Thank you for all your support.
Merry Christmas.
---
This week's 📪 Letters to RLC>>>
---
🖤 My 5 Favorite things this week: (Two to Grow on)
🧐 Digital Minimalism- Dallas Willard says, "You have all the time you need to do all the things God has called you to do." I completely disagreed when I first heard this... then I later got mad... then I later accepted it is true. The challenge isn't God's calling on our lives, it's either doing things He has not called us to do or mismanaging our time. I've been working to adjust my schedule. Here is some research on this. https://www.jamesstuber.com/booknotes/digital-minimalism/
🎄 Creepy, Beautiful Christmas Song- This is my favorite Christmas song. Something about this boys choir is sorta creepy but also beautiful. What you think? https://youtu.be/SQadcm_dwEM
🤔 Most thought-provoking- I'm sleeping wrong. Not sure why, but I have been having trouble sleeping through the night lately. Here was a really interesting video about it. https://youtu.be/qlf9-573MhI
🙏 Worship song of the week: Nothing Left to Prove by Israel Houghton, Naomi Raine and Mav City
🔝 📰 Top News-Related News- The Twitter Files. I am releasing my first "social commentary" video on YouTube later today. It's on the "Twitter Files" Elon Musk is putting out and if we should care as Christians. I look forward to hearing what you think about whether or not this is a good thing. Here you go: https://www.brandoncannon.com/twitter-files/
✍️ Quote of the Week: "Anything worth doing is worth doing badly for a while." G.K. Chesterton
🤪 Dad Joke of the week: (from my youngest daughter.)
Knock.Knock. (Who's there.) Never mind.
(I didn't say it was funny.)
😂 Funniest picture of the week: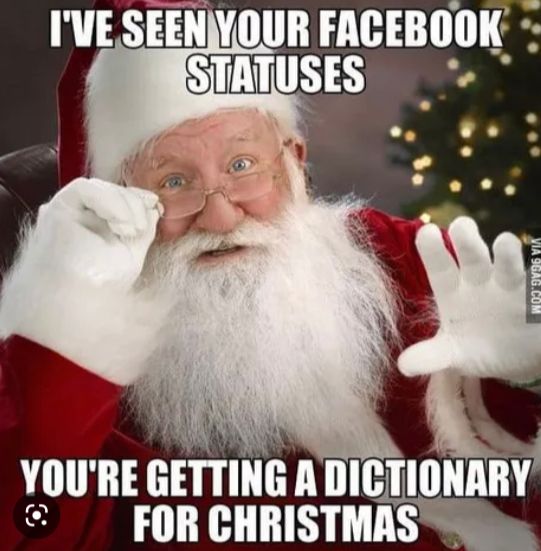 Hope you have a great weekend!