Text:
12 When Jesus heard that John had been arrested, he left Judea and returned to Galilee. 13 He went first to Nazareth, then left there and moved to Capernaum, beside the Sea of Galilee, in the region of Zebulun and Naphtali. 14 This fulfilled what God said through the prophet Isaiah:
15 "In the land of Zebulun and of Naphtali, beside the sea, beyond the Jordan River, in Galilee where so many Gentiles live, 16 the people who sat in darkness have seen a great light. And for those who lived in the land where death casts its shadow, a light has shined."
17 From then on Jesus began to preach, "Repent of your sins and turn to God, for the Kingdom of Heaven is near."
18 One day as Jesus was walking along the shore of the Sea of Galilee, he saw two brothers—Simon, also called Peter, and Andrew—throwing a net into the water, for they fished for a living. 19 Jesus called out to them, "Come, follow me, and I will show you how to fish for people!" 20 And they left their nets at once and followed him.
21 A little farther up the shore he saw two other brothers, James and John, sitting in a boat with their father, Zebedee, repairing their nets. And he called them to come, too. 22 They immediately followed him, leaving the boat and their father behind.
23 Jesus traveled throughout the region of Galilee, teaching in the synagogues and announcing the Good News about the Kingdom. And he healed every kind of disease and illness. 24 News about him spread as far as Syria, and people soon began bringing to him all who were sick. And whatever their sickness or disease, or if they were demon possessed or epileptic or paralyzed—he healed them all. 25 Large crowds followed him wherever he went—people from Galilee, the Ten Towns, Jerusalem, from all over Judea, and from east of the Jordan River.
Because of Jesus, in times of uncertainty we move forward. 👉
Overall Commentary: 🌎
This text could easily be broken up into the following three sections. The catalyst for it all is the arrest of John the Baptist. It appears this was the moment when Jesus' ministry goes into full motion.

Verses 12-17: After the arrest of John, Jesus goes to His hometown and then moves to Capernaum. This will become the base of His operation and fulfills the prophets predication of where the Messiah's base of operations will come from.
Verses 18-22: Jesus calls His disciples. Notice they leave everything immediately to follow.
Verses 23-25: As Jesus preaches the Kingdom of God, the power of God is on display. This is in stark contrast to John the Baptist. While John preached the same message, there is no record in the Bible or in non-Biblical sources that credits him with a single miracle.
Verse-by-verse commentary: 🧐
Verse 12:
John is arrested- We know from the Gospel of Luke that John has been arrested for accusing Herod of adultery. This was true. It appears that Herod had no intention of killing John. It wasn't until he is tricked by Herodias' daughter that John's execution is ordered. For more on this, check out Matthew 14, Mark 6, and Luke 9.
Verse 13:
Jesus moves to Capernaum- This would have been a good strategic move from Nazareth. As a port town, Jesus would have better access to the surrounding countryside. This also fulfills the prophecy of the following verses.
Verse 14-16:
Old Testament reference: Isaiah 9:1-2
Isaiah continues to be the most quoted Old Testament book in the Gospel of Matthew. This is mainly because Isaiah prophecies more about the Messiah more than any other Old Testament book.
Verse 17:
Jesus' message: Jesus continues the same message of hope began by John the Baptist.
The Kingdom of Heaven is near: This Greek phrase can also be translated as "has come" or "is coming soon."
Verse 18:
One day- While this is generally thought to be right at the beginning of Jesus' ministry, we do not know how long Jesus had been preaching before this event.
Simon Peter- Simon is later renamed "Peter" by Jesus. It means "little stone." Simon quickly becomes a frontrunner of Jesus' ministry and a leader of the church after Jesus' resurrection. He did not become the first pastor of the church in Jerusalem unlike popular opinion. This was given to James, the half-brother of Jesus. Simon preached throughout the roman world and was eventually martyred by crucifixion. According to legend, upon hearing of the type of execution, he requested to be crucified upside down because he did not deem himself worthy to die in the same manner as Jesus.
Andrew- Andrew, the brother of Simon, also became an early apostle. Andrew also preached throughout the roman world was martyred by crucifixion on an "X" shaped cross.
Verse 19-20:
Follow me: Jesus is inviting the apostles an apprenticeship under His ministry. It was common during the time for prominent teachers to acquire followers and to be taught their ways. The idea of following was different from today's standards. This was an invitation to come and live with Him. They would eat at His table, work alongside each other, and be part of His ministry.
I will show you how: The apprenticeship was with the goal of teaching them to do what He did. Even today, we have gained the wrong idea of what it is to follow Jesus. The goal is not to simply walk behind Him. The goal is to learn to do what He does so we can share this hope with others.
To fish for people: The symbolism is to take the skills they have and apply them to a different context. Jesus doesn't use us despite our gifts, talents, and abilities. He uses them for His glory.
Verse 21-22:
John, son of Zebedee: This is the John who later became the closest friend to Jesus. He later wrote the Gospel of John. He calls himself the disciple "whom Jesus loved." The general consensus is that John also wrote 1st, 2nd, and 3rd John. He also wrote the book of Revelation. People tried to kill John several times but were unsuccessful. He is the only apostle to have allegedly die of natural causes.
James, son of Zebedee: This is the James thought to be killed in Acts 12. He was beheaded.
Verse 23:
Jesus traveled: We do not generally see Jesus this way but He was an itinerant speaker. One of the reasons the apostles would later be able to remember His lengthy sermons would be that (1) they were inspired by the Holy Spirit to do so and (2) He would probably preach the same thing to every new area.
Healed every kind of disease: This is an important distinction between His and John's ministry. Jesus' ministry was accompanied by power. John is not credited with a single miracle.
Verse 24:
Demon possession: Have you ever noticed that Jesus is constantly dealing with demonic warfare? This was a sign of the Messiah. There was a tradition among the jews that the Messiah would have ability to deal with demons. Jesus doing this is a clear sign to everyone as to who He was. This is also why the Gospel writers write about it early and often.
Verse 25:
Large crowds- As Jesus would move from town to town, He would gather more and more people. We know from the Gospel accounts, there were at least 5,000 people following Him at one point. This would have been the size of a small city in this time period.  
Jesus leads us to boldly move forward 👉 and...
1. Verses 12-17: Be A Light💡in the darkness.
The catalyst event for Jesus beginning His earthly ministry was a tragic event…. John the Baptist being arrested. Many times, it is moments we didn't want and didn't look for that can set us off on the journey of a lifetime. While Jesus' ministry was going to begin anyway, nothing in the life of Jesus was left to chance. We can learn and grow from every moment. In this section of Scripture we can learn that, even in the difficult moments of life, God is moving. We can take hope that bad days are not the sign of a bad life. Rather, it is our chance to bring the light of hope to the world around us. Jesus started reminding those people that, even if John had gone, the message had not changed. What was even more amazing is they were no longer listening to a messenger. They were listening to the King Himself.
2. Verses 18-22: Be a disciple maker. 🤝 👨‍🎓
The first thing Jesus did after beginning His ministry was to get people around Him. What I love about this is He called them out by name. Jesus doesn't do assembly lines or mass production. He handcrafts each of us and calls us by name. His goal for us is to not just be another trophy set on His wall. We are known, loved, and valued in His kingdom. He calls us to follow Him. This was a big deal. These followers did not just attend His conferences. They lived with Him. They learned His ways by being invited close. In following Him, He was offering His life to them. He said that in following, He would show them. One of the things I love about Jesus the most is that He not only saves us, He then goes to work on us and sets us free. He spends the rest of our lives perfecting us and untying all the knots we have found ourselves in. He invites us to know Him. He invites us to grow toward freedom through Him. Then, He invites us to "fish for people." In other words, we start doing what He does. He make disciples to follow Jesus. We become partakers in the "family business."
3. Verses 23-25: Carry His hope and power 💪 to our world.
This final passage speaks of the two things that would characterize Jesus' ministry… teaching and power. He invites us to do the same. To experience His life changing Word and His life-changing power. What is even more amazing is He equips us to bring this to the world around us as well.
When we realize His Kingship and His Kingdom, we live with the confident hope that we do not live in vain. We live for what really matters and we serve the true King. Nations rise and fall, but our King remains undefeated.
When times are uncertain, King 👑 Jesus remains UNDEFEATED.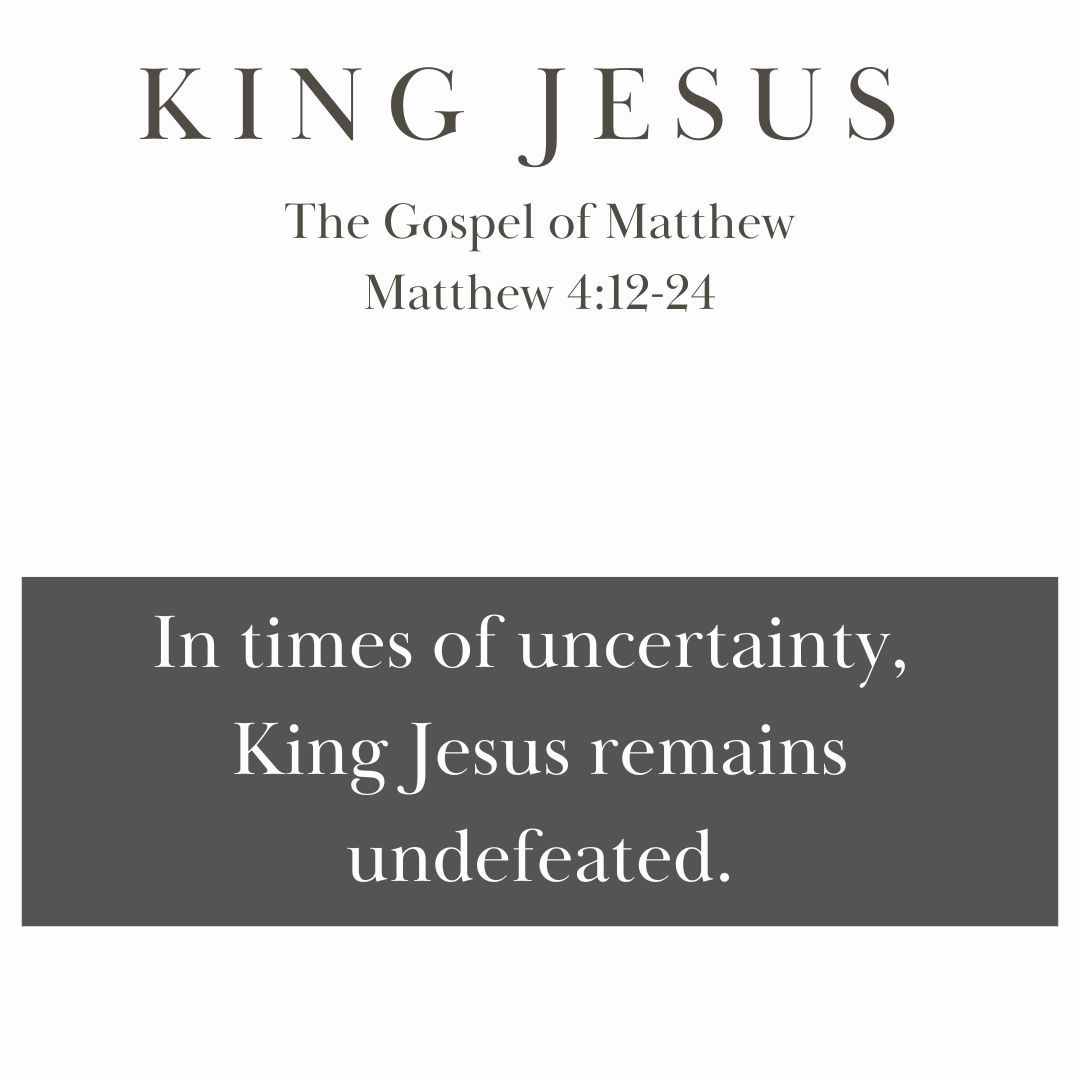 Resources: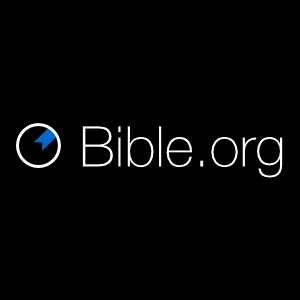 https://universitybaptistchurch.com/sermons/jesus-a-light-a-fisherman-a-physician-matthew-412-25/