Table of contents
Welcome to week four of "Real Man Monday." Last week, we discussed talking to our general everyday. This week, we are going even deeper into the soul of a man of God.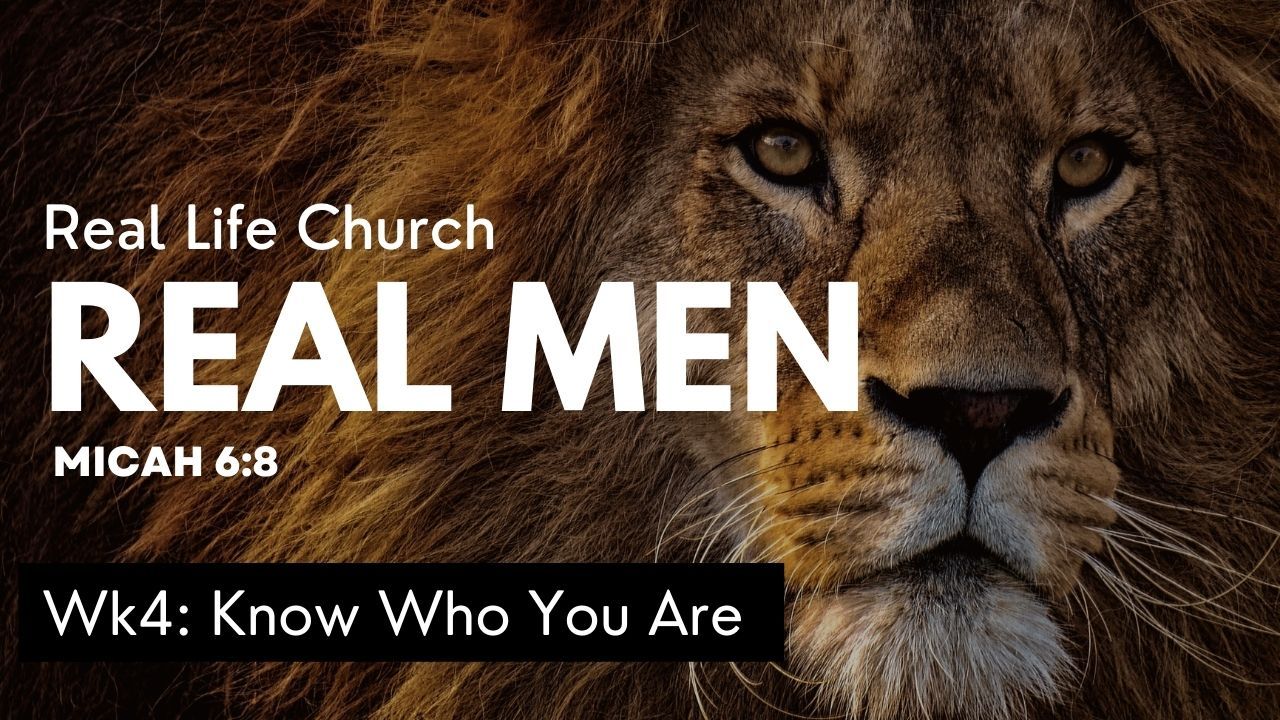 Caution
Weeds grow quickly, but oak trees take years. If you want a quick fix to becoming a man of God, these videos are not for you. However, if you realize that becoming a man of God takes a lifetime, let's get started together.
Goal
To slowly grow into a man of God, one week at a time. Each week, we will look at a different aspect of being a man of God.
Let's Review
What is a man? Chuck Norris. What is a man of God? God's Word says in Micah 6:8,
"Mankind, he has told each of you what is good and what the Lord requires of you: to act justly, to love faithfulness, and to walk humbly with your God."
‭‭‬According to God, a man of God acts justly, loves faithfulness, and walks humbly with God.
Acts Justly- A protector of what is right and good. A defender.
Loves Faithfulness- Someone who is consistent. Dependable. Someone you can count on.
Walk Humbly Before the Lord- Someone who follows the Lord in submits to His leadership.
Today's topic: Who Do You Think You Are?
The world is always trying to tell you who you are. Many different places are trying to get you to identify by your sexuality, your fears, your politics, or your failures. Jesus says the only way to true live free as a man of God is to live by who He says you are. I live in His kingdom, not mine. So, I live according to His view of me.
God says you are a child of God. Don't you ever forget it. You are a Child of the King.
You are not your worst mistakes. We are only as bound as the lies we are willing to believe. Think about who you are in Christ. So, don't live according to the identity the world has place on you. Identify according to your new nature. You are a child of the King.
This week's challenge: Memorize Who You Are! (1 Peter 2:9)
You are a chosen people. You are royal priests, a holy nation, God's very own possession. As a result, you can show others the goodness of God, for he called you out of the darkness into his wonderful light. 1 Peter 2:9
What does this mean?
"You are a chosen people."
You were not God's last choice. You are God's first choice. You weren't picked last because there wasn't anyone left. You were chosen on purpose and chosen with purpose. Even if you have messed up. God never gives up on you.
"You are a royal priesthood."
The priests were the ones with access to the presence of God. Because of Jesus and your allegiance to follow Him, you now have access to God's presence. You can come boldly to Him in prayer as a son in the Kingdom of God.
"You are part of a holy nation."
God is slowly walking you toward holiness and freedom every day. He loves you enough to slowly heal every broken place in your life.
"You are God's very own possession."
God is proud to call you His.
Below are further promises God makes about you. Who are you?
You are a child of the King. Now go out and see to it you live up to it.
WHO I AM IN CHRIST
I am accepted…
John 1:12 I am God's child.
John 15:15 As a disciple, I am a friend of Jesus Christ.
Romans 5:1 I have been justified.
1 Corinthians 6:17 I am united with the Lord, and I am one with Him in spirit.
1 Corinthians 6:19-20 I have been bought with a price and I belong to God.
1 Corinthians 12:27 I am a member of Christ's body.
Ephesians 1:3-8 I have been chosen by God and adopted as His child.
Colossians 1:13-14 I have been redeemed and forgiven of all my sins.
Colossians 2:9-10 I am complete in Christ.
Hebrews 4:14-16 I have direct access to the throne of grace through Jesus Christ.
I am secure…
Romans 8:1-2 I am free from condemnation.
Romans 8:28 I am assured that God works for my good in all circumstances.
Romans 8:31-39 I am free from any condemnation brought against me and I cannot be separated from the love of God.
2 Corinthians 1:21-22 I have been established, anointed and sealed by God.
Colossians 3:1-4 I am hidden with Christ in God.
Philippians 1:6 I am confident that God will complete the good work He started in me.
Philippians 3:20 I am a citizen of heaven.
2 Timothy 1:7 I have not been given a spirit of fear but of power, love and a sound mind.
1 John 5:18 I am born of God and the evil one cannot touch me.
I am significant…
John 15:5 I am a branch of Jesus Christ, the true vine, and a channel of His life.
John 15:16 I have been chosen and appointed to bear fruit.
1 Corinthians 3:16 I am God's temple.
2 Corinthians 5:17-21 I am a minister of reconciliation for God.
Ephesians 2:6 I am seated with Jesus Christ in the heavenly realm.
Ephesians 2:10 I am God's workmanship.
Ephesians 3:12 I may approach God with freedom and confidence.
Philippians 4:13 I can do all things through Christ, who strengthens me.
Don't give up. Keep going. We need you.