Table of contents
Like a good detective, let's examine this book.
🔥 Overview
Luke was an amazing choice by God to write a gospel. He was a non-Jewish physician who traveled with Paul. His information about the life of Jesus came from stories related to Paul, investigating the claims himself, and possibly being a follower of Jesus as well. Luke also writes the longest Gospel. It includes many of the narratives found in Mark and many miracles. This makes sense because his "physician brain" would have been drawn to the miracles and healings.
Luke is unique among the Gospels because it has a sequel... Acts. Acts jumps back to where Luke's Gospel leaves off.
🔍 Things to Notice
Luke stands alone in the Gospel narratives in many ways. Here is a couple I find interesting:
Luke tells us how he verified his miracle accounts. In the first couple of verses, he talks about how he investigated the claims himself.
Luke is a doctor. This is why he goes deeper into talking through the many miracles of Jesus.
Luke was not an original disciple. Therefore, most of these accounts were not first-person.
Luke was the frequent travel companion of Paul. Therefore, he likely heard these from Paul as they were related to him by the original 11 disciples.
🙏 Jesus in this Book
(Every book reveals the glory of God, revealed in Christ Jesus)
The Son of Man came to seek and save that which was lost. (Luke 19:10)
👀 Themes
Jesus- the Ideal Man
Jesus- the Healer of All
Well-researched accounts of healing
😀 Who?
Who wrote it: Luke.
From the Antioch.
Not one of the original 12 Disciples. He was a physician and a traveling companion of Paul. He was also an excellent historian.
Martyred: We are not sure how Luke died. Christian history says he may have died from being hanged from an Olive Tree.
Who is the original audience: Everyone, specifically someone named Theopolis. Various legends surround Theopolis. Very possibly a wealthy patron from Rome who paid for the travels and research of  Luke to investigate the claims about Jesus.
🪧 Where?
Where are we: Luke likely writes from Antioch. He may also have written while in Rome, tending to Paul while he was in prison. Since it is thought that Theolopolis may have been a wealthy Roman official, this also adds to the Roman location.
⏳ When?
When was it written: Probably written around 60 AD.
🤔 What?
What is the big idea: The big idea of Luke is to share the story of Jesus with his benefactor, Theopolis. It serves to show Jesus as the "Son of Man," the Healer of all, and the Savior of the World. Jesus is seen as merciful to all sinners and is the only place where He prays for forgiveness for the roman soldiers who were nailing Him to the Cross.
🧐 Why?
Why is this book important: Luke writes to confirm that Christianity is not a new religion. Jesus is the fulfillment of the Old Testament hope of a King. However, this King is not only for the Jewish nation. Jesus is the Savior to all.
📝 How?
How can I apply it?: Luke shows how Jesus loves and cares for all. Have you ever wondered if God truly sees you? Have you ever felt "lost" in the sea of humanity all around you? Jesus sees you. Jesus knows where you are. He is mindful of you and loves you more than you can imagine. He is the healer of all and can bring peace to any storm, both inward or outward.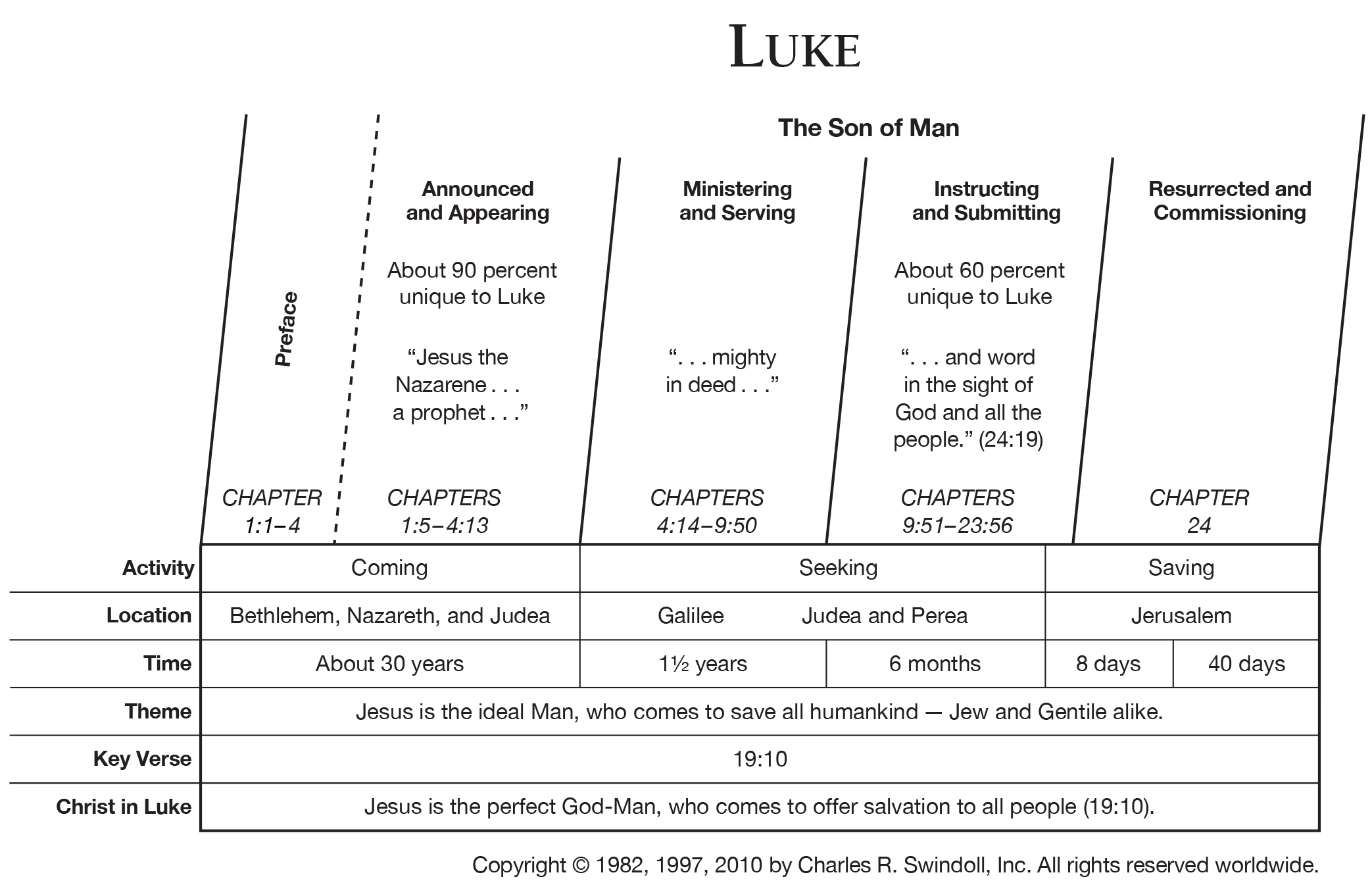 ---
Quick Thoughts on Each Chapter
Chapter 1: John Prepares the Way. Mary sings of God's goodness. Stuff be crazy!
Chapter 2: The angels sing of coming of the King!
Chapter 3: "This is my Son. I am well pleased!" How beautiful!
Chapter 4: Jesus shows us how to defeat the devil. The Word of God!
Chapter 5: Jesus says, "Follow Me."
Chapter 6: Build your life on the solid foundation of God's Word.
Chapter 7: Today's reading introduces us to the only time Jesus was amazed by someone.
Chapter 8: The true family of Jesus is not about how you are born.
Chapter 9: Peter replied, "You are the Messiah!" At some point, we must all answer this question. Who is Jesus?
Chapter 10: Rejoice because your names are registered in Heaven!
Chapter 11: Jesus teaches about prayer. God wants us to connect with Him and teaches us how.
Chapter 12: Seek the Kingdom of God above all else. Only Christ truly satisfies.
Chapter 13: Verses 10-17- It's ALWAYS time to experience God!
Chapter 14: Verses 25-33: Jesus constantly reminds us that following Him means... following Him. He leads. We follow.
Chapter 15: Three parables. All intended to teach the lost being found.
Chapter 16: Verse 13- You cannot serve two masters. Something will lead and dictate the focus of your life.
Chapter 17: Jesus, increase our faith!
Chapter 18: With man things are impossible. With God all things are possible.
Chapter 19: Our goal is faithfulness. God determines fruitfulness.
Chapter 20: Give to God what is His! He is worthy of our trust. True freedom only comes from Jesus.
Chapter 21: Jesus teaches about the future because He's Already There! Nothing surprises Him.
Chapter 22: Jesus teaches us how to pray in the middle of trouble.
Chapter 23: Jesus, the Savior of All!
Chapter 24: Whether we realize it or not Jesus walks with us
Read the Bible Online