Table of contents
Like a good detective, let's examine this book.
🔥 Overview
I love the Gospel of Mark. Mark was a translator for Peter so these stories come from him. I imagine Peter preaching all day with Mark at his side, then Mark spending his evenings writing them all down. As you read through this Gospel, keep the following things in mind to enjoy it even more:
Imagine the chaos surrounding Jesus. He was constantly moving from place to place but never seemed to be in a hurry.
Imagine Peter relaying all these stories to the people in Rome. Perhaps standing in amphitheaters telling stories of healings and deliverance. The audience was, no doubt, amazed at the stories of this backwater nobody from nowhere. Yet, he would have spoken with the power of the Holy Spirit. People would have been drawn to this message. There was something different about Jesus, whom Peter spoke about.
🙏 Jesus in this Book
(Every book reveals the glory of God, revealed in Christ Jesus)
The Messiah who is a Servant
🔍 Things to Notice
Immediately- 39 times. This word unescorted the constant activity. It makes me think of a celebrity being ushered from place to place by their bodyguards.
Son of Man- There have been some that say Jesus never claimed Messiah status or Divinity. Those who say such things do not know their Old Testament. Every time Jesus calls Himself the "Son of Man," He is doing both. This is a title from Daniel 7 and is given to the coming King.
Ending of Mark- It is widely thought the last few verses of Mark were not in the original manuscript. This is not a problem. We know about this and it has been footnoted in modern translations. It does nothing to any form of orthodoxy or theoloical stance. Click here for further study.
👀 Themes
Jesus- the Suffering Servant
Jesus- Who Gives His Life to save the World
😀 Who?
Who wrote it: The background of this author is extremely interesting. Mark was an interpreter for Peter. This Gospel is a collection of stories from Peter's sermons. So, you could see the Gospel of Mark as the Gospel of Peter. Also, Mark went on a missionary journey with Paul but later abandoned Paul and Barnabas. It was this event that later split the missionary duo, but Mark and Paul eventually became ministry partners again. According to church history, Mark was martyred in 68 AD. He returned to Alexandria and preached to the pagans to turn from idol worship. They placed a rope around his neck and dragged him through the streets until dead.
Who is the original audience: All, especially the gentile world.
🪧 Where?
Where are we: Since Mark was the translator for Peter, he was likely writing all this down while translating in Rome. It's amazing to use our imaginations and think of Mark spending all day sharing the stories of Peter's journeys with Jesus, then spending his evenings writing them all down.
⏳ When?
When was it written: Likely the first Gospel account written. Approximately 57-59 AD.
🤔 What?
What is the big idea: The Gospel of Mark shows us, Jesus, from the point of view of a servant. Perhaps the key verse for the entire Gospel is Mark 10:45, "For even the Son of Man did not come to be served, but to serve, and to give His life as a ransom for many." This Gospel is full of miracles and shows how Jesus served all around Him.
🧐 Why?
Why is this book important: Jesus is constantly on the move. While never in a hurry, Jesus is moving from town to town and doing ministry constantly. Through this Gospel, we are able to see what it would have been like to be around Jesus. There would have been a constant stream of activity all around Him, and Jesus at the nucleus. Constantly calm, cool, and collected. Always giving. Always serving.
📝 How?
How can I apply it?: There is a certain momentum that you can feel right at the beginning of Mark. From the very beginning, the author seems almost rushed to get to the end. It can sometimes feel like our lives are the same. We are rushing through life and never feel like things will slow down. The hope in this book is to remember that Jesus was never in a hurry. He was always right in the middle of the chaos that surrounded Him ministering to those who came to Him. This is still true today. The chaos on the outside does not have to affect the peace of God on the inside.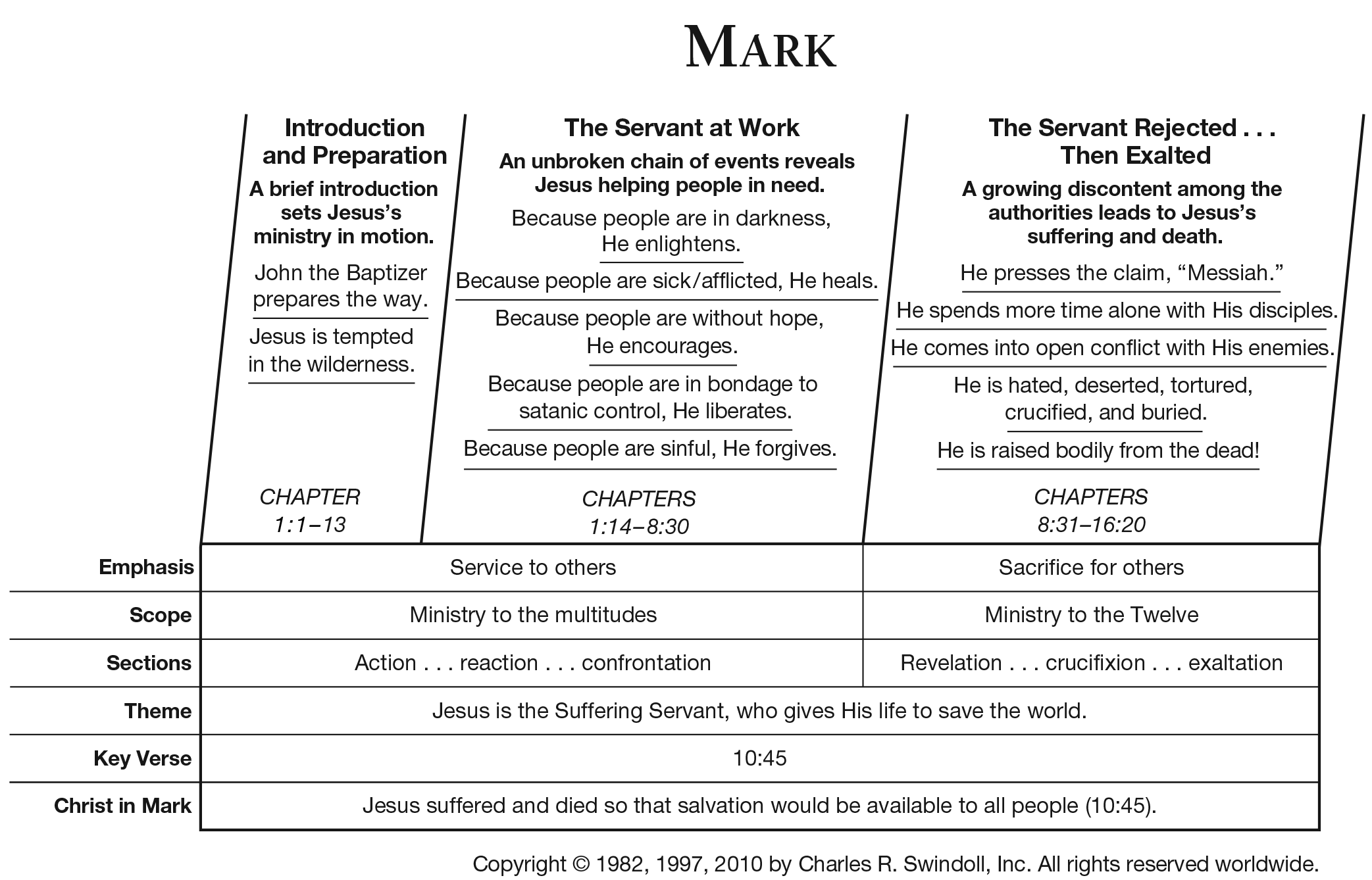 ---
Quick Thoughts on Each Chapter
Chapter 1: It's time to take a break from the nation of Israel and read about our King, Jesus. Mark was a Greek translator for Peter. This Gospel was inspired by the Holy Spirit from a collection of sermons while Mark translated for Peter in Rome. One of the most used words in this Gospel is "immediately." Mark cold be described as showing Jesus to be a Servant of all. Never in a hurry, but constantly healing, moving, and teaching.
Chapter 2: Verse 27- Jesus talks says the laws in the Old Testament were to keep God's people free and not place them in bondage. It's the same today. God's Word establishes boundaries to make us and keep us free.
Chapter 3: Jesus calls the 12 apostles. They were already following Jesus, but were selected as leaders. Here is a link to learning more about each disciple… https://tinyurl.com/2e6e2cvd
Chapter 4: Jesus shares an amazing parable. This is a great lesson for the posture we take when hearing God's Word. We must always be sure to have open hearts and ready to learn. We let His Word grow down deep into our hearts. Only then will it produce a harvest of fruitfulness.
Chapter 5: The spiritual world is real and Jesus had no problem dealing with darkness. When we come to Jesus and give our allegiance to Him, evil no longer has power over us. The devil has power but no authority anymore.
Chapter 6: The feeding of the 5,000… Did you know this is one of the only miracles listed in all four Gospels? This was an amazing moment God felt important enough to tell us about 4 times, from four different perspectives. Why do you think He did this?
Chapter 7: Verse 24-30- This section has sparked a lot of controversy. Jesus is not talking down to this lady and she is not speaking "truth to power." Jesus is actually using a term of endearment, much like how sweet southern bell calling someone "sweetheart." Also notice that He heals her daughter. That doesn't sound like Jesus is trying to discount this lady. Rather, He is pushing her and, perhaps, trying to draw out her faith.
Chapter 8: Jesus predicts His death. This is amazing because this reminds us Jesus knew what was coming and moved forward anyway. If you knew you were going to die, would you still go? Jesus knew and went anyway. That's how much He loves you.
Chapter 9: Peter, yet again, sticks his foot in his mouth while staring at Moses, Elijah, and Jesus. I can't blame him. I would have no idea what to say either. What would you say if Jesus appeared to you in His glorified form?
Chapter 10: Verse 13-16: Jesus must have been fun to be around. Don't pay attention to any movie that depicts Jesus as someone stern or unapproachable. Jesus had fun. Jesus told great stories. According to the text, it appears kids were welcome. Jesus is strong but also gentle.
Chapter 11: Jesus didn't mind that they were selling goods in the Temple. They were actually providing a valuable service to travelers who needed to buy sacrifices. The problem is they were ripping people off and stealing. Jesus is saying they have turned a place that should be focused on experiencing God into a place of deception and thievery.
Chapter 12: The two most important commandments. Most scholars believe Jesus is saying to love God and to love our neighbor is to fulfill the 10 commandments. The first 5 commands are how to love God and the second 5 are how to properly love our neighbor. Very interesting.
Chapter 13: Jesus speaks about the future. What I love is He is already aware and is not bothered. Never worry about tomorrow. Jesus is already there.
Chapter 14: The lady who anoints Jesus didn't mind looking foolish in front of the crowd. She had an audience of one and her worship was pure. We should never be ashamed of our worship, but also make sure we never worship to get the attention of others. Our worship is designed for God alone.
Chapter 15: Jesus said nothing to defend Himself before Pilate. Pilate was not in charge nor were His accusers. Jesus chose to go to the Cross and did not let anything stop the process. He did this for you and me.
Chapter 16: The last few verses have created controversy. These verses do not give us a license to handle snakes nor drink poison and dare God to save us. We are told to never test the Lord. These verses are saying nothing will be able to stop us while spreading the Gospel.
Read the Bible Online